Nepal is home to eight out of the fourteen highest peaks in the world with colorful and intricate Hindu religion to the austerity of the Buddhist monasteries. From these breathtaking heights, rivers crash down through the foothills, fed by monsoon rains and melting snow, on their way to the Great Plains of the Ganges.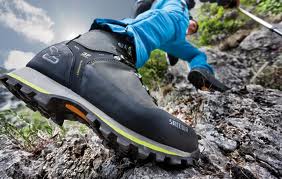 Trekking in Nepal is of course a very adventurous trip. You can just never imagine the thrill and excitement you can get during trekking. There are several trekking sites in Nepal. Some of them are: Annapurna trekking,Dhaulagiri trekking, Dolpa trekking,Everest trekking,Ganesh Himal trekking, Gosaikunda trekking,Helambu trekking, Kanchanjunga trekking, Langtang trekking, Makalu trekking, Manaslu trekking, Mustang trekking, Rara Lake trekking, Rolwaling trekking.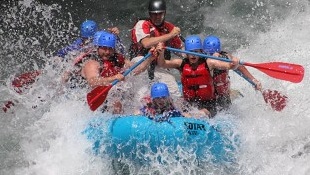 Rafting
We are proud to share our wonderful country , culture and our many years of experience in this field with you and give you an excellent opportunity to explore the remote countryside which is never possible without river trips.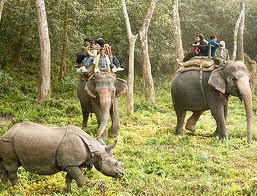 Safari
The southern belt of Nepal is known as the Terai. It is a low land covered with dense subtropical forest. Here you will find some of the most exciting safari destinations in the world. You will be going into deep jungle on elephant back or four-wheel drive to view wild animals in their natural habitat. The jungle safari activity includes canoeing, nature walks, bird watching, excursions, and visit to an ethnic Tharu village in the Jungle Safari Park. There are 14 national parks and wildlife reserves in the Kingdom. Royal Chitwan National Park (932 Sq. km.), Koshi Tappu Wildlife Reserve (175 sq. km.) and Royal Bardiya National Park (968 sq. km.) are most famous and popular.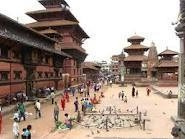 This is a short trip that lets you explore ancient temples and religious shrines of the three medieval kingdoms, namely Kathmandu, Bhaktapur and Patan. This trip takes you into a kind of mystical history where the past still remains alive in the present, tradition tirelessly repeats itself into a culture that remains seeped into an ancient history created by the kings of past generations and religious doctrines are strictly adhered till this very day.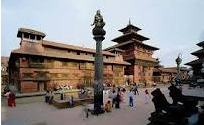 In Kathmandu, the capital city of Nepal, you will be taken for a visit to the holiest of Hindu shrine Pashupatinath. Pashupatinath temple is dedicated to Lord Shiva, one of the trinity and the guardian (patron) deity of the Hindus. As you approach cremation areas of the temple,you will witness Hindus ritual of cremating a corpse. Tour to Buddhist stupa at Boudhanath are other retreats that will be serviced to you. Another attractive prospect of this trip is cultural tour to the major cultural heritages and temples in Bhaktapur and Patan.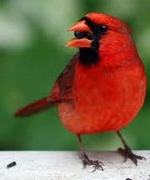 Bird Watching
Nepal is a major destination for amateur bird-watchers and professional ornithologists alike. It boasts an immense variety of birds and avian habitats, and a long history of bird-watching. Nepal is a bird watching destination of international importance. For a country of its size Nepal is exceptionally rich in its biodiversity, specially its avifauna. A total of 862 species of birds is an incredible number for such a small country.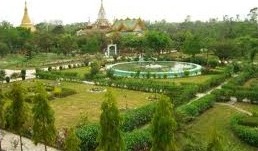 Hindu Pilgrimage Tour is very popular between Hindu pilgrimage who travel Nepal. Most of the people are Hindus and they trust in Hindu God and Festival. In Nepal more than 65% people are Hindus and there are many Hindu temples, Gods-goddess, Shrines which are related with Hinduism. According to Hinduism, One god or goddess has different power figures. When human visit those places and offer flowers, sacrificing animals, put a tika in forehead and pray to them, one can get power to be peace of mind, to get success what we make a plan for future. There are many kinds of temples, gods and goddess in different cities and places. So many Hindu pilgrimage visits Nepal for their special purpose to worship Lord Shiva, Pashupatinath temple which is biggest Holy Hindu Temple and it is said that it is able to fulfill their wishes. We have many attractive and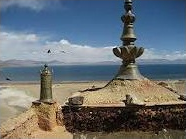 popular places related with Hindu people and religion where one can proud to be Hindu people by visiting there. We have some highlighted cities and places for Hinduism like as Pashupatinath Temple, Budhaneilkantha Temple and Changunarayan in Kathamndu and Bindubasi,Temple and Barahi Temple in Pokhara. Kathmandu Durbar square,Patan durbar square and Bhaktapur Durbar Squre which are built by Hindu King in Kathandu valley. Ram-Janaki Mandir in Janakpur Dham and Manakamana mandir on the way of Kathmandu to Pokhara. Muktinath Tempel in Mustang district. We arrange Tailor-made Hindu pilgrimage tour in Nepal, if you need more information about Hindu pilgrimage tour package, feel free to contact us.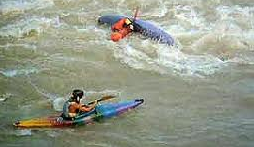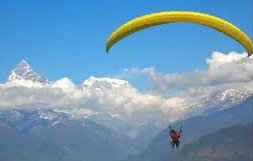 Nepal is as exciting as it is beautiful. It is a pioneer of joy and fun as regarding to Sports Tour. Solution Tours and Travels Pvt Ltd. provide you a very special package for this fun tour. You can enjoy Bungee Jumping, Cycling, Kayaking, Paragliding, Playing golf etc..Your desire for your Sports Tour is satiated here. You can watch top down view of pokhara via paragliding from Sarankot Hill. Nepal Avia Club is also here for you to chill out in air viewing the beautiful scenario of Nepal.
Remember us for full satisfaction of the tour in Nepal..